Pipe elbow miter cut formula any degree one cut
One cut elbow miter any degree formula
एक कट में माइटर कट पाईप एल्बो का फार्मूला बताया गया है
अलग-अलग दो पाइप में मार्किंग करना हो

माइटर

बैंड एक

कट

में तो कैसे मार्किंग करेंगे
Formula for Miter Cut Pipe Elbow in One Cut
Marking is to be done in two different pipes, how will the miter band mark in one cut
यह 90° डिग्री के लिए फार्मूला है
अलग-अलग दो पाइप में मार्किंग करना हो

माइटर

बैंड एक

कट

में तो कैसे मार्किंग करेंगे
जितना भी डिग्री में 
माइटर
 कटिंग करना हो डिग्री को दो से डिवाइड करना होगा
आंसर आने के बाद  tan( डिग्री  ) × पाइप का OD आंसर ÷ 2  करना होगा
तो पाइप का जो बैक कट है
आपको मिल जाएगा
Marking is to be done in two separate pipes, how will the miter band mark in one cut?
In whatever degree you want to do meter cutting, the degree has to be divided by two.
After answering tan( degree  ) × pipe's OD answer is 2 , then you will get the back cut of the pipe
Degree ÷ 2 × tan × pipe OD
tan( 45°) × 114 = 114 ÷ 57 cut back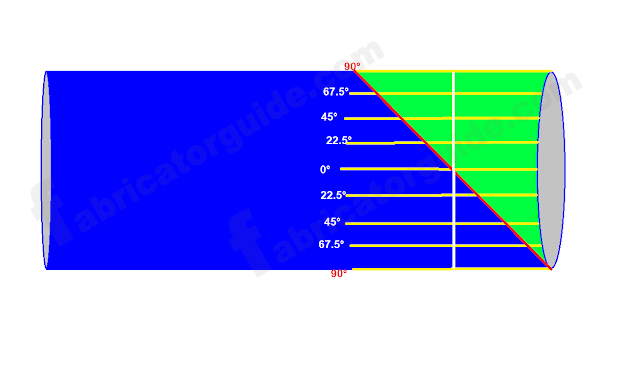 57 mm पर एक राउंड मार्किंग करें पाइप के ऊपर और उसके बाद जितना सेंटर लाइन में मार्किंग करना हो उतना सेंटर लाइन मार्किंग करें
Make a round marking at 57 mm on the top of the pipe and then mark the center line as much as you want
57 एमएम जो आंसर आया हुआ है उसके हिसाब से आप चार सेंटर लाइन में मार्किंग कर सकते हैं लेकिन
उसमें सही मार्किंग नहीं होता है इसलिए आपको 8  सेंटर लाइन या 16 सेंटर लाइन में मार्किंग करना होगा तो
उसके लिए यह फुटेज में दिखाया गया है कि किस तरीका से मार्किंग करना है 16 सेंटर लाइन में
According to the 57 mm answer, you can mark in four center lines but
It does not have the correct marking so you have to mark in 8 center line or 16 center line For that, it is shown in the footage how to do the marking in the 16 center line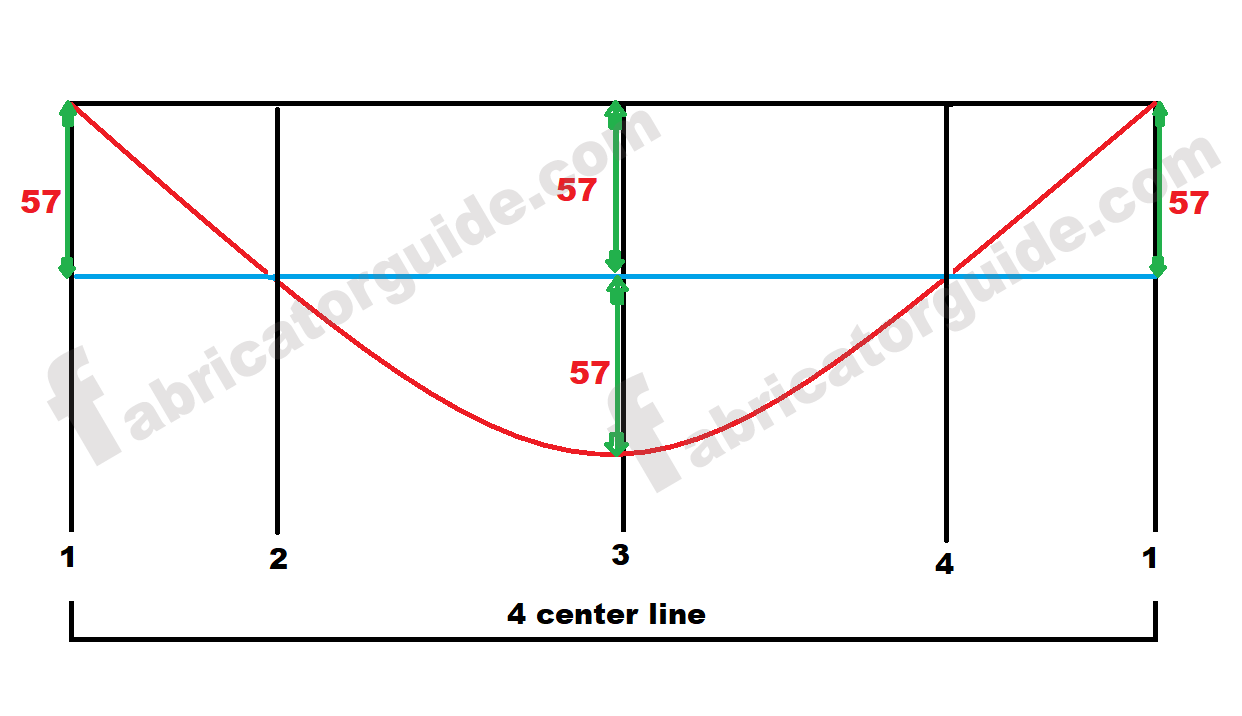 8  सेंटर लाइन में मारने के लिए सिर्फ आपको  45 डिग्री का पोजीशन लेना पड़ेगा
और 16 सेंटर लाइन में अगर आप मार्किंग करना चाहते हैं तो  22.5° डिग्री और  67.5° डिग्री का पोजीशन लेना पड़ेगा
To hit 8 center line, you only have to take 45 degree position
and if you want to mark in 16 center line, you will have to take position of 22.5 ° degree and 67.5 ° degree.
तो फ्रेंड इस तरीका से जो आप देख रहे हैं 22.5 डिग्री और 45 डिग्री और 67.5 डिग्री का जो पोजीशन लिया गया है
और जो आंसर आया हुआ है उसको किस तरीका से आपको मार्किंग करना है यह आगे आप फोटो में देख सकते हैं
So the way you are looking at the friend in this way, the positions of 22.5 degrees
and 45 degrees and 67.5 degrees have been taken and the way in which the answer has come, you can see this in the photo
8  सेंटर लाइन और 16 सेंटर लाइन और 32 सेंटर लाइन में भी आप मार्किंग कर सकते हैं उसके लिए आपको
साइन का जरूरत पड़ेगा कैलकुलेटर में आप देखेंगे कि एक साइन थीटा होता है तो उसे आप सेलेक्ट करेंगे और
उसमें आप  डिग्री डाल देंगे जितना डिग्री का पोजीशन लेना
तो फ्रेंड यह जो मार्किंग किया गया है 16 सेंटर लाइन में मार्किंग किया गया है और 90 डिग्री का एल्बो बनाया गया है माइटर बैंड पाइप का
You can also mark 8  center line and 16 center line and 32 center line, for that you have to
sine will be needed in calculator you will see that a sine is theta then you will select it and
In that you will put degree as much as taking degree position
So friend this marking is done in 16 center line and 90 degree elbow has been made of miter band pipe